Meet the characters in Beijing Abduction
Mai Martin's Li Nai Apartment
In the An American in Beijing series, Mai Martin is a Generation Y child of the 70s who marries her Berkeley university, moves to Mendocino, California, after the dot com bust and casts about looking or interesting work. She finds a job at a Beijing university and relocates there as the story begins.
She is subject to extreme cyber harassment and spying as a result of work assignments and her personal projects.
Conflict moves from remote, over the internet, to physical and intimate.
Beijing Abduction
Beijing Abduction by ShaLi, Cheryl West Petty, publisher, First in the series 'An American in Beijing.'
Internet treachery, corruption, trafficking, abduction, murder, loyalty, love.
"Ideal reading for any officer heading over to China on assignment."--the Intelligencer, the Journal of US Intelligence Studies.
"Don't be tricked by the verisimilitude into forgetting this is fiction," Sha Li says.
Sha Li is a pseudonym to protect the identities of people who inspired characters. Names have been changed.
ShaLiauthor.com
Purchase on Amazon.com.
Clarissa Ward, CBS Foreign Correspondent
Simultaneously, the character Mai Martin emerged and took on more human characteristics. "In a way, she resembles Clarissa Ward, the CBS foreign correspondent," says Petty. "Especially the qualities of adventure combined with a serious composure."
Ron Zhao's Russian M72
Ron picks her up in a 1957 vintage Russian M72 bike with a sidecar. She hadn't seen anything like it before. People in the neighborhood stare at them as she climbs into the little compartment. He hands her a modern helmet and tucks a blanket around her legs. She thinks, Ron looks dashing, dressed in blue denim jeans and a black leather jacket, a white turtle-necked tee shirt underneath.
Ronald Zhao
Partner at TSC Security Consultants Ltd in Beijing. After his sudden divorce, Ron left Hong Kong for a new career in the private sector after 19 years in the Hong Kong Police. He meets Mai Martin on the job. She's the most beautiful and unusual client TSC has had. Ron is certain she must be a movie star.
***
Ron brings his right fist toward his left palm in front of his chest. With a soft, whipping sound, he shifts weight onto one leg and flips the other into a Praying Mantis high kick and strikes the closest Marine hard on the jaw with his booted foot. Feeling him relax his grip on her arm, Mai drops to the burgundy carpet as the second Marine punches Ron. Maj. TANG swings back at the Marine while Mai crawls toward Wright, hissing, "Where's Rick!"
Sr. Col. GAO Bu, Deputy Division Commander, First Bureau Office Director, Beijing University Office
Commander GAO still sits at his desk at 17:30, finishing a call from Lt. LIU. The officer gives him a quick update on the progress of the Martin investigation. After she eludes them in the hutong neighborhood, they locate her in the shopping center and are waiting nearby for her to leave the bank. "Okay, LIU, are we done? I have another call." Looking down at his phone, he sees it's from ZHAO. "What now, ZHAO?" asks Commander GAO.
"Call it off, Commander. Don't tell me running through the hutong and chasing a woman is your plan! This has got to stop!"
"You're not Police Commissioner here, ZHAO," retorts GAO.
"She asked me to call you. She doesn't know where to go or what to do. You want to protect her? Then help her!" says Ron.
"You don't know the people involved, ZHAO!"
"I know the North Koreans are involved—how does that make you feel? You're a decent guy. Do you want to help them? Are you trying to abduct her? What are you guys doing?" asks Ron.
"I'll call you back." Commander GAO snaps the phone closed and fumes in his chair.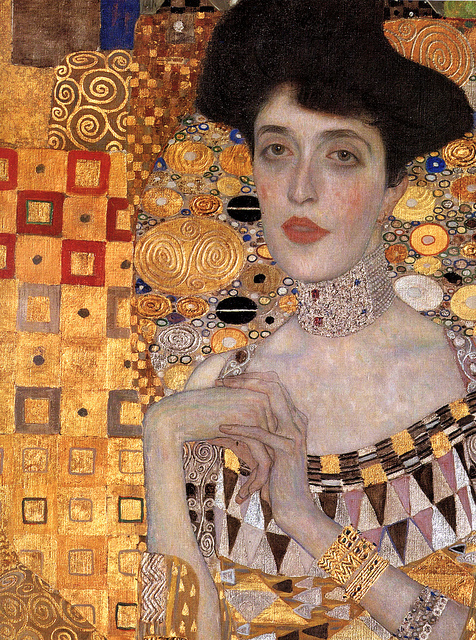 Adele Bloch Bauer Li by Gustav Klimt
This painting was one of several influences on the evolution of the face of Mai Martin and how it is portrayed in art for the book covers.
Linda Price
Linda Price translated these images into the distinctive cover design with bold and tertiary colors in geometric bands, accented with the Chinese characters for each title.
Mai Martin, an American in Beijing
Holding her cards close to her chest, Mai plays poker with the Commander, playing the innocent wife. What's the worst thing that could happen, she muses. They would just send me home. They don't imprison American, surely. Still, I like living here, and I don't want to leave. Not yet.
She slips her hand under the table and grips Ron's. "That's crazy, Commander, I don't know what you're talking about."
Commander GAO's mouth curves sideways into a sneer of disdain, "As you wish, Martin Taitai, but we have evidence that says otherwise. Unless, you can explain …" He slides open a report cover and spreads photos across the table. Ron and Mai stare at the clandestine images for the first time: a picture of Rick standing next to the back door of their house, another one of him at the Texaco, and two of Mai. One taken in Sebastopol with her old, earth-mother look, and one, taken from her own computer, from an outing at Phoenix Hills, with her new Chinese look.
The face
"The diagrams are imagined by artists before they are created, discovered or understood. They are a technology precursor," says artist Cheryl Petty. In the case of the image of Mai Martin, the main character in An American in Beijing political thriller series by Sha Li, the 'Mai painting' was created years before Cheryl Petty sold the Window Box Bonsai Accents and Art Gallery on Sacramento Avenue of the Arts in Dunsmuir, California in 2011. It was before her first trip to China in 2010.
"The face haunted me and I sought relief in painting it and then putting it away," says Petty.
The face deconstructed
Later in 2012, she destroyed the face further through the process of imaginative dissociation, an extreme deconstruction symbolizing a state of disintegration and used it in the painting Point of Convergence Disassociation. At this time, Petty was influenced by Gustav Klimt's iconic painting, 'Adele Bloch-Bauer Li.'
Snowy hutong
Concrete block shed at lower left corner with blue door is where the gang held Rick Martin overnight in a snowstorm.