PRIVATE BONSAI GARDENS
Ginza Morimae
This garden was newly contructed and had many deluxe features such as a tea house and the most lavish tea room with tokumono. I was happy to see barbed wire and surveillance systems in place. Although Japanese are very honest and do not steal or vandalize property, these treasures would make a tremendous temptation.
Tokyo Sunset photo by Peter Bloomer
Bonsai - Shohin
Shohin display at Morimae's private bonsai garden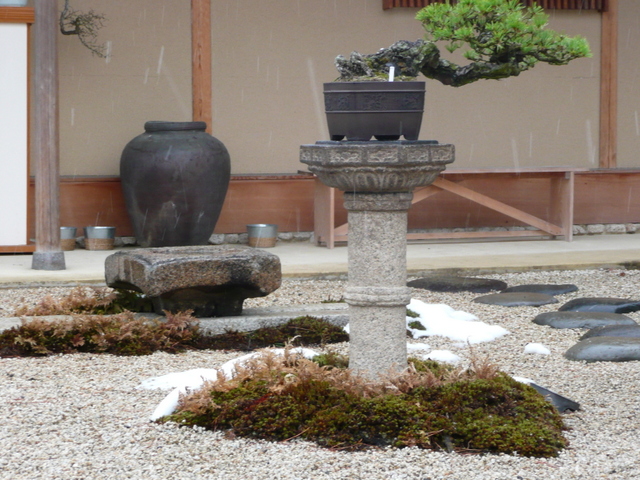 Bonsai Culture
800-year-old temple posts make beautiful bonsai stands with plenty of wabi sabi.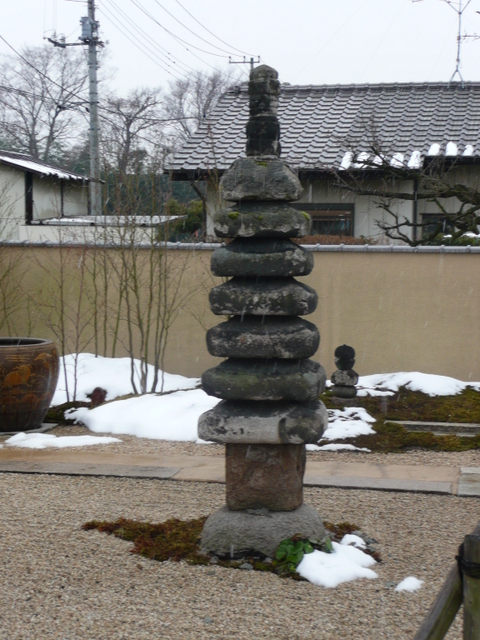 Bonsai Culture
Ancient stupas add grace and spiritual content to outdoor display.
Bonsai Culture
There's alot to notice here. New garden construction shows wood supports for newly planted mature trees ingravel and moss covred mounds. Individual specimens are elevated to eye level on stands treated with concrete faux wood texture. They are buried only about 6-8 inches deep. See Mansei-en-Saburo Kato above. Rain from eaves drips directly into attractive French drain of large gravels edged with ceramic roof tiles to keep the two gravels from migrating.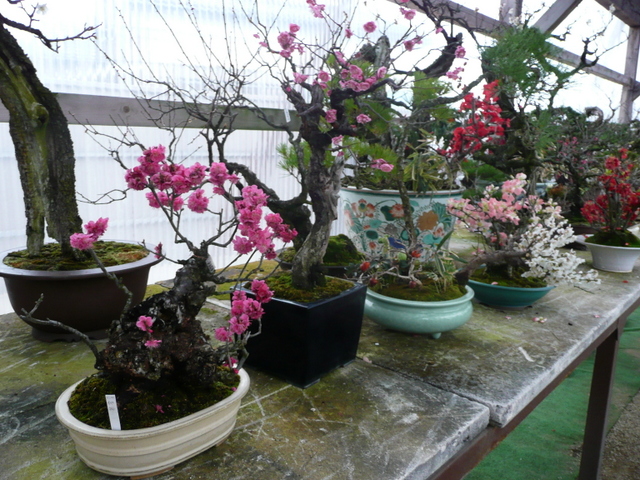 Bonsai Culture
Sweet collection of spring blooming Prunus mume and quince.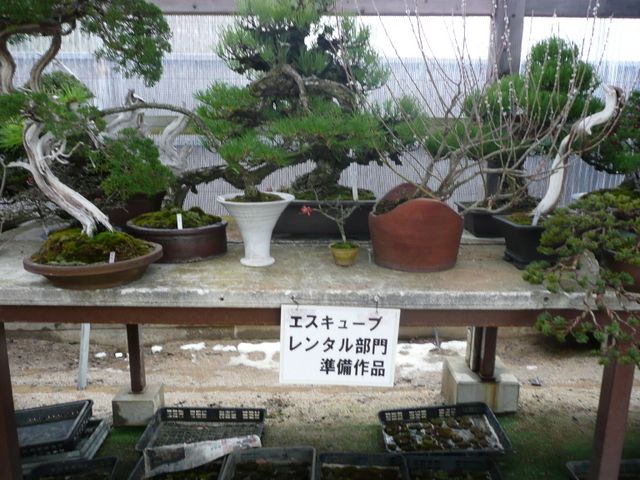 Bonsai Culture
I wish I knew what this sign was saying! See the baby mosses in the flat on the right?
Bonsai - Bunjin
A row of Bunjin style pines tied to the bench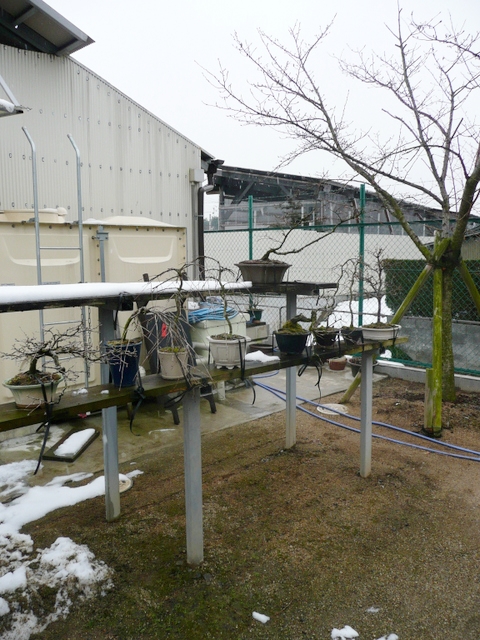 Bonsai Culture
See the newly planted tree propped up with wood supports? Here's a double-decker bench displaying trees at eye level.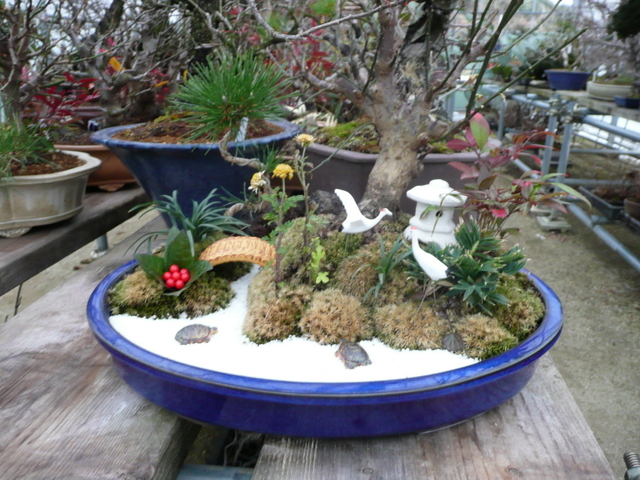 Bonsai Culture - Hakoiwa
Miniature landscape or Hakoniwa with fine white rock depicting water, little bridge, cranes, turtles and lantern.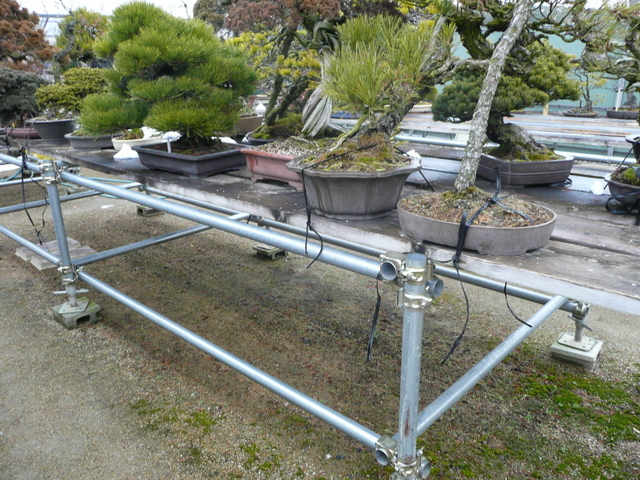 Bonsai Culture
Shelving for heavy trees out of galvanized scaffolding. Tall or leaning trees are tied down with heavy duty zip ties.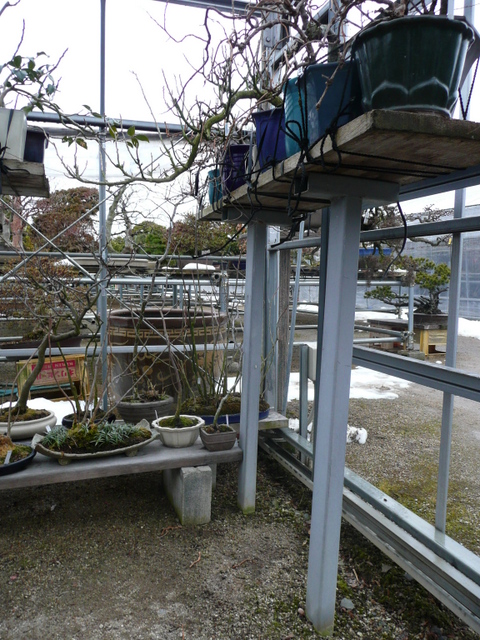 Bonsai Culture
Cascading bonsai need room for branches to hang down.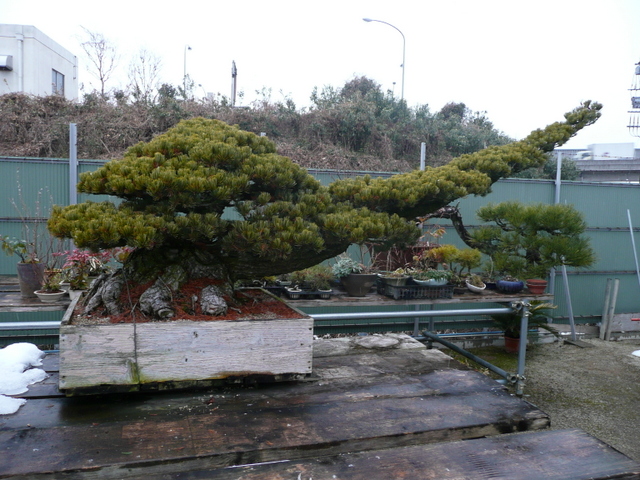 Bonsai
Only one word for this magnificant large bonsai-- Magnificent!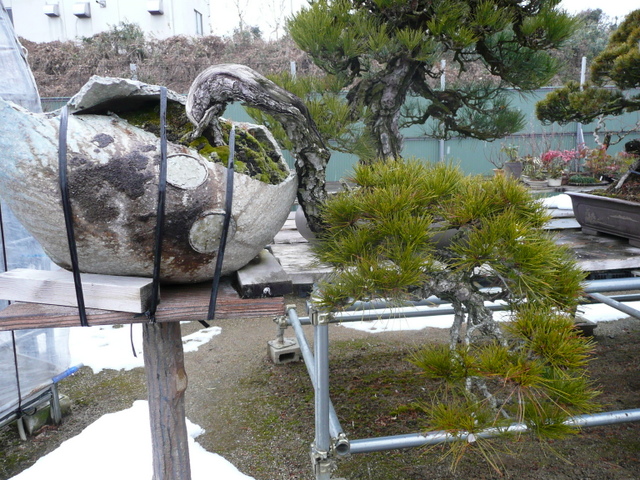 Bonsai Culture
Not all bonsai are grown inantique pots. This amazing cascade crawls out of this contemporary raku fired pot in the shape of a huge seedpod or cracked egg.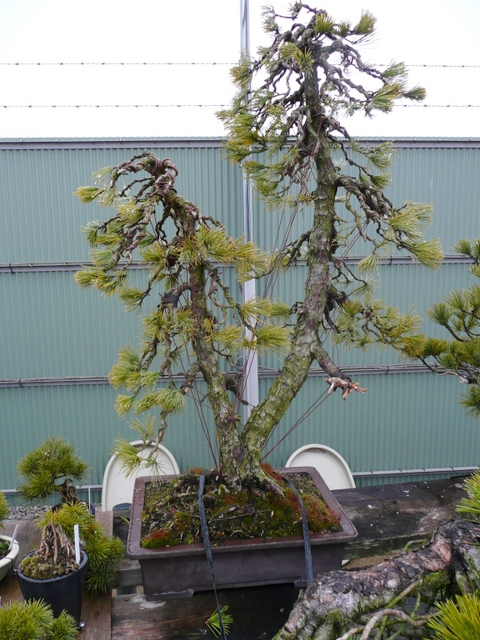 Bonsai - Soka
This Soka Twin-trunk pine exhibits downward pointing and twisted branches.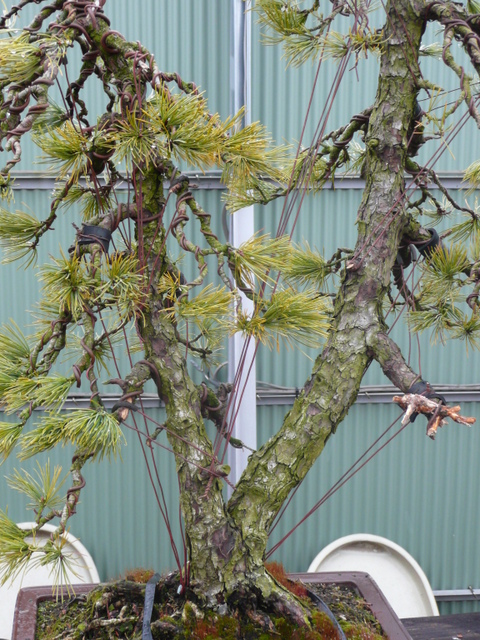 Bonsai Culture - Wire
Close up of guy wires. See the branches are protected by electrical tape and rubber tube.
Bonsai Culture
Here's another contemporary pot that has been planted with an old pine cascading in a graceful curve to complement the distinctive shape of the assymetrical pot.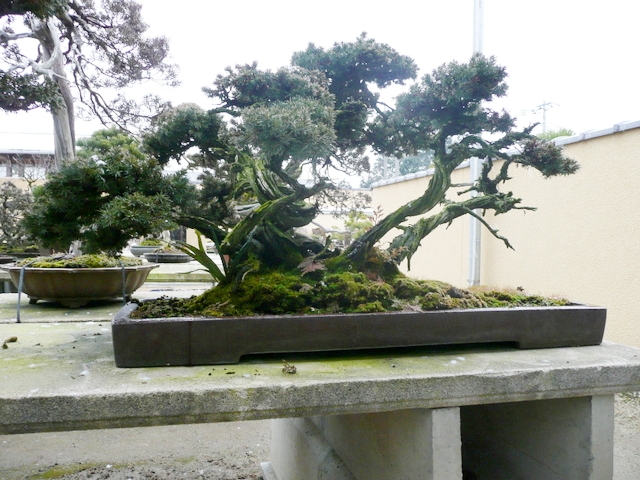 Bonsai - Yoseue
Although this image is dark, perhaps in silhouette you can see the placement of the Yoseue or group planted trees.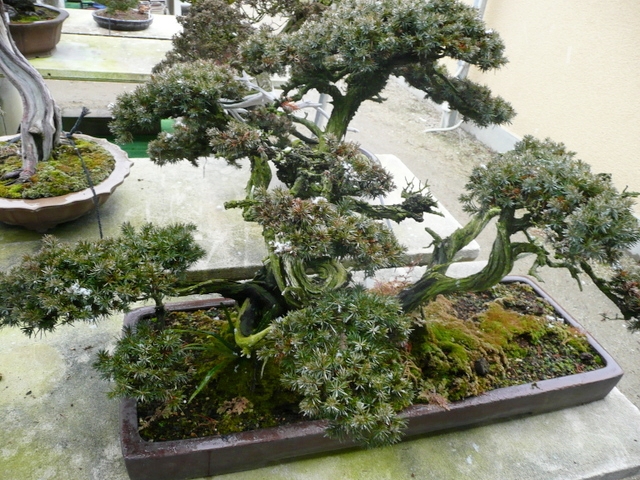 Bonsai - Yoseue
This is the same Bonsai seen from an elevated angle, and it is easier to see the juniper foliage.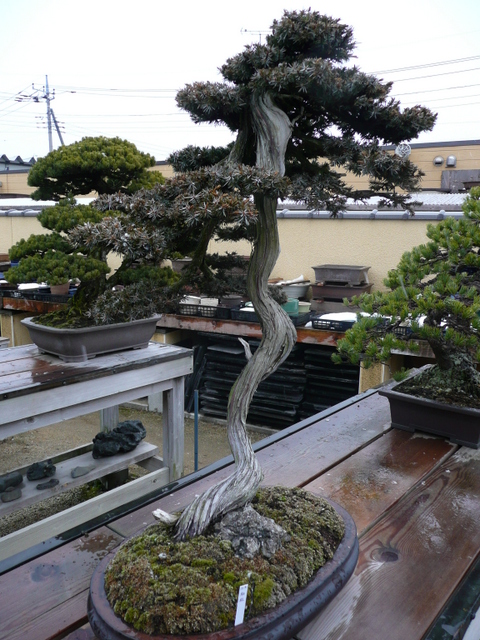 Bonsai - Bunjin
A sinewy Bunjin Literati Style.