Trans Pacific Friendship Group tour to North Korea October, 2016
David and Lindea traveled by train from Beijing to Dandong over to DPRK and down to Pyongyang. Thanks for David for many of these images.
China Voyage link here for Travel to DPRK
Rice Fields
It's harvest time, seen from the train, photo by D E
Farm Houses
A village of farmers who tend these fields, photo by D E
Rice
Golden, ripe rice, photo by D E
Harvesting Rice
Woman in red trousers and shirt harvests rice, photo by D E
Rice Sheaves
Bundles of freshly cut rice await bundling into sheaves, photo by D E
Buildings seen from train
A one-story, stucco house with a small yard is surrounded by low, stucco wall and trees, photo by D E
Farm Village
Farmer's buildings and homes surrounded by fields, photo by D E
Cut and un-cut fields
Brilliant gold squares of rice beneath blue sky, puffy clouds, photo by D E
Tractor pulled wagon
Crops are hauled from field with tractor, photo by D E
Misty, mounded hills
Looking like a misty, Shan Shui Hua landscape brush painting by Mi Fei.
Sky, mountain, trees, water land
Gold Dredging
SangWon Valley, photo by D E
Hydro-electric dams
More hydro-electric dams in the 10 megawatt size have been constructed on the rivers, providing consistent electricity.
International Friendship Exhibiton House
It contains thousands of rare and marvelous gifts recerived by President Kim Il Sung, Leader Kim Jong Il and Marshal Kim Jong Un, a unique collection of culture from around the world, photo by D E
Lu Tian tree
This is the first example of bonsai I found at the international Friendship Exhibition, a large, in-the-ground style called Lu Tian. Who knows what type of Lu Tian is this giant mogu? photo by D E
Wind Bells
This is the view north from the porch of the Friendship House.
Bohyon Buddhist Temple
It was built in the 11th century. People are free to practice religion, as long as it fits into these four categories: Protestant or Catholic Christianity, Buddhism or Korean Taoism called Chondoism, photo by D E
Triumph over evil
Protective spirits stamping out bad habits.
Bohyon Temple
Glimpse of monk, photo by D E
Bohyon Temple
David, local guide and Grace
Bohyon Temple
Although I found no citations online, this remote outpost of Buddhism houses a complete set of the sutras on ancient bamboo strips, photo by D E
Hyangsan Stream
Clean, clear water, fall colors, May 1 marks the first picnic of the year and October 10 the last picnic of the season. Chusak holiday or Harvest Moon Festival is the 15th day of the 8th lunar month.
Dulnori, Picnic
the guides and driver spread a large, red, silky cloth over the cobbles and sand, photo by D E
Dulnori, Picnic
Lindea inspects conglomerate rocks while David prowls for pictures to take of still water reflections, photo by D E
Hyangsan Stream
It's fun to cavort beside the water, crystal clear and tinted green in a deep crevice, photo by D E
Bulgogi, Bar-b-que
Out of boxes come a portable brazieer with wok shaped cooking surface for the barbeque, Bulgogi, photo by D E
Bulgogi, Bar-b-que
While strips of meat cook, pork, Doae ji gogi, lamb, Yang gogi and squid, Nakij, we snack on waraps, Ssam, of lettuce, Buru, bean paste, Gochu jang, and cucumber, Oi, photo by D E
Mountains, trees, water, reflection
Sky, water, trees
SangWon valley is where I want to be Writer in Residence. After hours writing, I can take my paint kit out and spend the afternoon capturing the effect of light on the water.
Downtown Pyongyang
It's like everywhere, people walk down the street holding their mobile or on the metro. these girls are talking with a man with his own style.
Pyongyang Metro
Underworld cavern of ice crystals shimmer overhead in the vaulted ceiling, photo by D E
Downtown Pyongyang
View from the Koryo Hotel, photo by D E
Downtown Pyongyang
The day before the big holiday, everyone is dressed up. It's Friday and they are going to work.
USS Pueblo (AGER-2)
Once the tour gets underway, we walk about a mile past an outdoor exhibit of captured tanks, helicopters, guns and so on, arranged side by side by country. Beyond that, the Pueblo is moored. The shrapnel and bullet holes are clearly marked. I can't see that it had received much shelling. The local guide points out some antennas on top of the bridge are missing, but I can't see much damage, photo by D E
USS Pueblo (AGER-2)
July 14, 1977 an American CH-47 Chinook helicopter is shot down after straying into the north over the DMZ. Three airmen lost their lives in the incursion and one briefly held prisoner. This was the sixth such wandering incident since the armistice.
USS Pueblo (AGER-2)
June 1970 the North Korean navy seized a broadcast vessel from the South near the Northern Limit Line. 20 crew are captured in this border incident.
USS Pueblo (AGER-2)
The US Navy and the crew of Pueblo insisted that before capture they were in international water which at that time was 12 nautical miles. The North Korea says the Pueblo was within their territorial waters. Bottom line? They were captured, they lied and they suffered horribly before US Army Major General Gilbert H. Woodward signed an apology December 23, 1968, allowing the Pueblo prisoners to return to US.
USS Pueblo (AGER-2)
I've been interested in the Pueblo incident since I first knew of it a couple years ago. In 1968, at the height of the Viet Nam War hysteria, we sent a small ship filled with the latest in techno spy gear into Korean waters and managed to get caught. The 83 crewmen, officers and captain were held captive for almost a year, suffering gruesomely, before our government signed a paper to get them home. Captain Bucher was dishonorably discharged for not resisting the capture of his ship-- which would have left a lot of dead sailors-- he fought against this in court and lost. The captain's career was ruined, leaving him and his officers broken men. The whole story is a very strange and sad chapter of our paranoid history, buried and covered up. The captain's book is available on Amazon.com.
USS Pueblo (AGER-2)
Control Room, photo by D E
USS Pueblo (AGER-2)
Pueblo memorabilia, photo by D E
School Children's Palace
Practicing calligraphy, photo by D E
School Children's Palace
Boys writing calligraphy.
School Children's Palace
Kindergartener's practice for their teacher, photo by D E
School Children's Palace
The small pianists watch the video of themselves for the first time.
School Children's Palace
Young performer, photo by D E
School Children's Palace
Performer in musical skit, photo by D E
Koryo Museum
Ancient relics from the Korean culture are preserved here, photo by D E
Lu Tian tree
Here, at the Koryo Museum, built 1000 years ago and preserved into modern times, I spot another candidate for the large, in-the-ground style of tree, photo by D E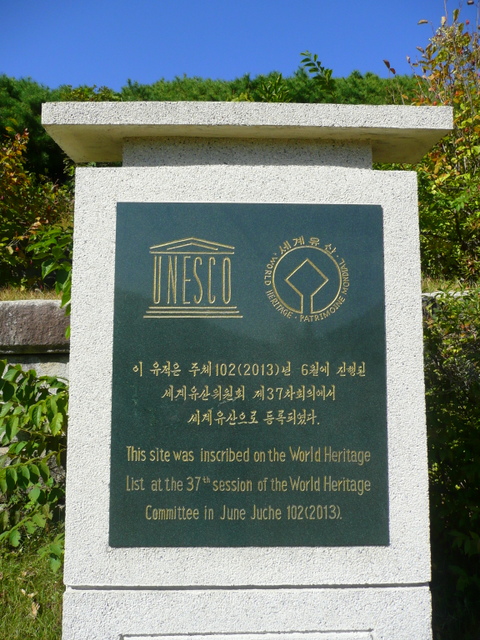 Historic Monuments and Sites in Kaesong
These sites were designated as National Treasure Sites and are managed at the national level, an important function of the Young Marshall's government.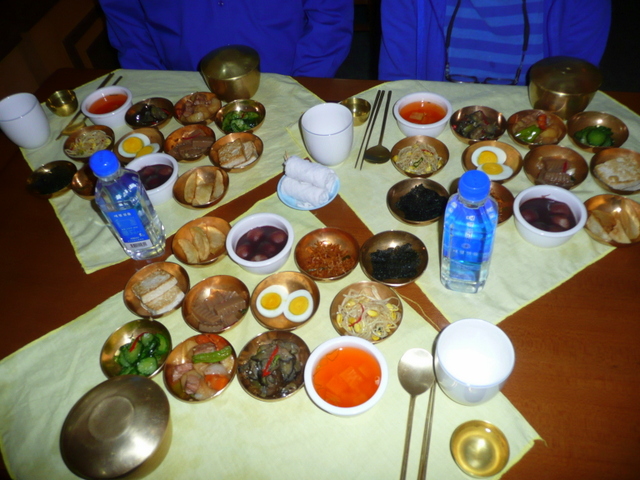 Pansanggi in Kaesong City
We stop for a fabulous lunch set out in small brass dishes of condiments. I will try to remember them all: potato wedges, sliced cucumber salad, sliced mushroom with red slivers, corrugated buckwheat noodle, rice balls that look like eyeballs in sweet bean paste, dried shrimp, tofu, hardboiled egg, mung bean accompanied by shots of soju, rice, water.
King Kongming's Tomb
Grace, Lindea, Chery, Mr. Kim, photo by D E
Kimilsungia&Kimjongilia Exhibition Hall
Inside the hall there are two levels of displays in twenty foot sections or stalls. Each exhibit utilizes the main flowers. 'Kimjongila' is an enormous tuberous begonia with a huge, red flower the size of a small cabbage, developed in Japan and given to the DPRK as a gift to their leader. The other flower featured in all the exhibits is a paphiopedilum orchid, developed in Indonesia, magenta with white spots on the petal tips and called 'Kimilsungia'. Chery, Lindea, Grace, local guide, David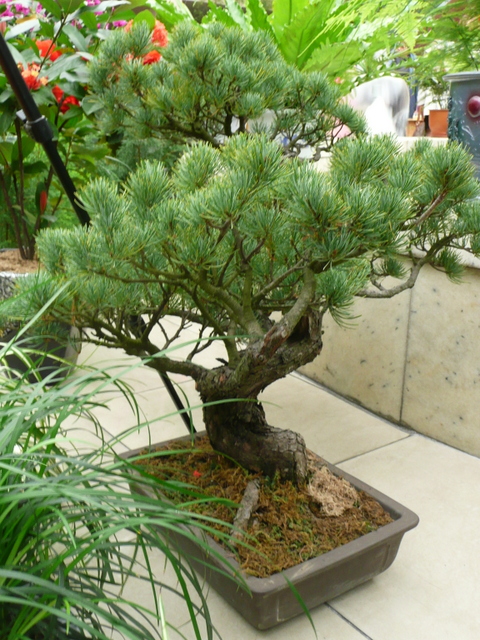 Kimilsungilia&Kimhongilia Exhibition Hall
The first example of bonsai that I found was at the International Friendship Exhibition, a large, in-the-ground style. [In Chinese Lu Tian penjing style. See blog post from November 2011.] The next examples were part of exhibits at a flower show in the Kimilsungia&Kimjongilia Exhibition Hall. Inside and at the front, in a prominent spot, I see a potted bonsai Pinus parviflora which sends me into ecstasy. In Korean, bonsai is called Na mu [tree] hwa [flower] Bun. Although I rush past the elaborate display in the foyer crowded with many important guests mingling with tourists, I'm able to get a picture.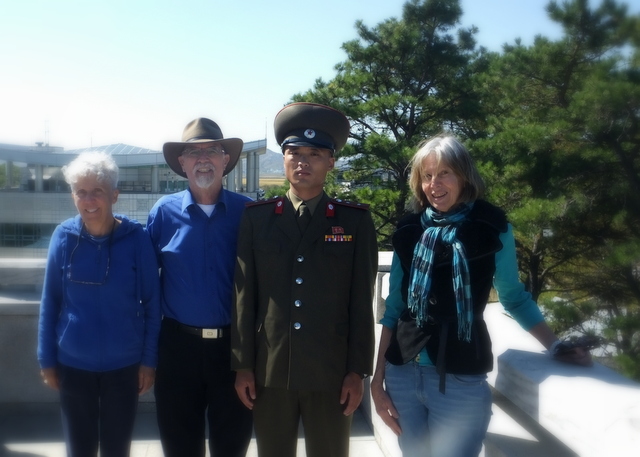 At the DMZ
The actual DMZ is kind of a disappointment. For all the hype, all I can see is a few little huts, some blue and some silver. A few guards standing in the mild sunshine. Behind this, on the ROK side is a large building a few stories high which houses some army types I imagine are bored out of their minds from the eternal stalemate and wishing they could call their girlfriends or play computer games instead of bristling with hostility. To one side is an elevated Asian style pavilion for family members, but today it is empty. Dark green Korean pines frame the scene where we stand on the second floor porch of a building on the DPRK side. Tourists mingle and take photos. A good-looking second lieutenant poses for pictures. Not very scary. Even so, I'm overcome with emotions and stand in a corner of the porch, gazing down at the ridiculous scene and crying. My travel companions, Lindea and David cheer me up with a photo opp with the handsome soldier before descending to the ground level and soberly return to our buss.
Kimilsungia&Kimjongilia Exhibiton Hall
A mass display of uniform Kimjongilia begonias, field or flag of them with the country's emblem
Kimilsungia&Kimjongilia Exhibition Hall
Taekwando organization's exhibit, photo by D E
Dolphinarium
Panoramic view of the pool, people and huge LED screens, photo by D E
Founding Day of the Workers' Party of Korea
Marshal Kim Jong Un delivers speech at celebration ceremony, Saturday October 10, 2015. Not known the man standing on the right.
Founding Day of the Workers' Party of Korea
Vintage planes fly in formation overhead "70", photo by D E
Founding Day of the Workers' Party of Korea
Brigades march from the celebration square past where we are standing in downtown Pyongyang, photo by D E
Founding Day of the Workers' Party of Korea
The Russian president, Putin, gifted five horses and their young generations which delight the crowd as the equestrian platoon, in white capes over their uniforms, prance toward us, photo by D E
Founding Day of the Workers' Party of Korea
At 1AM, I'm awakened by a magnificent fireworks display not far from the hotel. I rush to paint the effect of black skyscrapers against the lights—a metaphor for the wild feeling still churning in me.
Chongsan Co-operative Farm in Kangso County
Mosaic of President Kim Il Sung sitting with the farmers, photo by D E
Taekwando
Like everything involving Korea, this native martial art has been split and formed and reformed due to the un-natural isolation of half the country. This shows the DPRK groups trophies and leadership.
Taekwondo
A group from the US and Canada is given a performance. Our tiny group sits on the sidelines for an exciting exhibition. photo by D E.
Taekwondo
Here, roof tiles before, photo by D E
Taekwondo
Here, roof tiles after, photo D E
On the Dandong River
Tonight it's beer, water, smoked meat, lettuce, three kinds of kimchee for appetizer.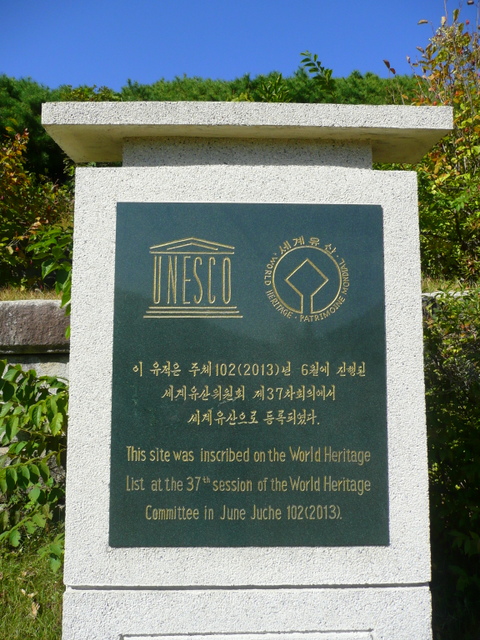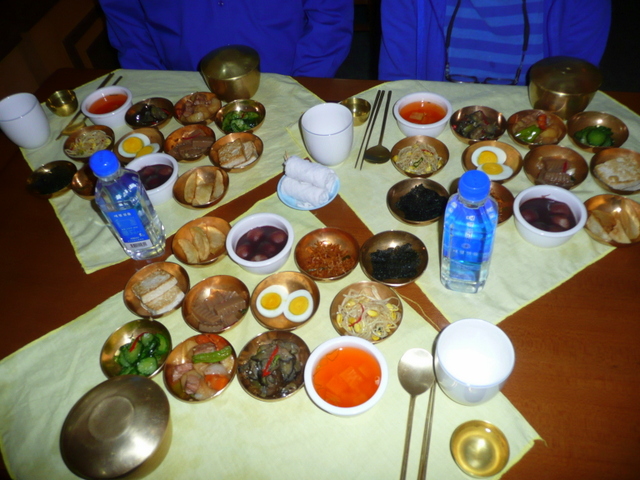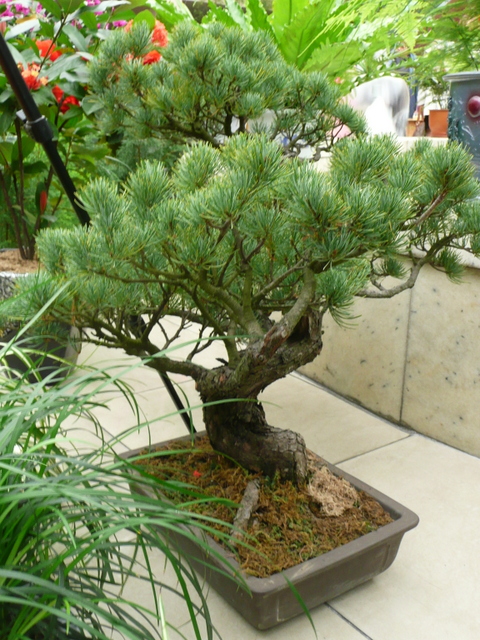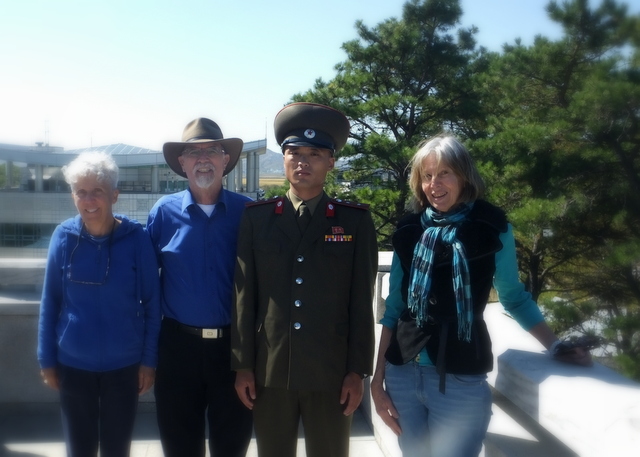 Thanks, xiexie, kamsa hamnida, to David Ellsworth, a Canadian and citizen of the world who sponsored me on this tour with North Korea International Taekwando Tour Company. Many of the images are his. Thanks agan, David.