Meet the players at the Peoples Liberation Army
Sr. Col. GAO Bu, Deputy Division Commander, First Bureau Office Director, Beijing University Office
Commander GAO still sits at his desk at 17:30, finishing a call from Lt. LIU. The officer gives him a quick update on the progress of the Martin investigation. After she eludes them in the hutong neighborhood, they locate her in the shopping center and are waiting nearby for her to leave the bank. "Okay, LIU, are we done? I have another call." Looking down at his phone, he sees it's from ZHAO. "What now, ZHAO?" asks Commander GAO.
"Call it off, Commander. Don't tell me running through the hutong and chasing a woman is your plan! This has got to stop!"
"You're not Police Commissioner here, ZHAO," retorts GAO.
"She asked me to call you. She doesn't know where to go or what to do. You want to protect her? Then help her!" says Ron.
"You don't know the people involved, ZHAO!"
"I know the North Koreans are involved—how does that make you feel? You're a decent guy. Do you want to help them? Are you trying to abduct her? What are you guys doing?" asks Ron.
"I'll call you back." Commander GAO snaps the phone closed and fumes in his chair.
Lt. Col GUAN Qinchen, alias DuLang, Vicious Wolf
Lt. Col. GUAN Qinchen, first working for the corrupt official DIANGTI, he turns himself in and joins Commander GAO, going undercover as DuLang, Vicious Wolf, infiltrating the para-military gang.
Maj. Gen. HUANG Fuhui
Maj. Gen. HUANG Fuhui, Shao Jiang First Bureau Chief and Deputy Army Commander of the Beijing Military Region, is Commander GAO Bu's boss, Dalaoban. He's a charismatic and megalomaniac idealist for New China.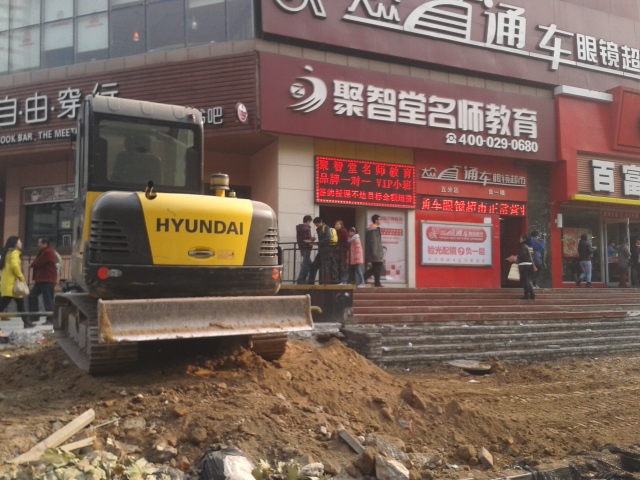 Minimall in Qinglinyuan
GUAN returns to his newly rented and cramped apartment in the Qinglinyuan gang neighborhood in the northeast corner of Wudaokou. It is a run-down, abandoned industrial area not far from campus. He waits and practices developing his intuition through qi-gong.